World Cup final 2018, France vs Croatia: France win the World Cup after six-goal thriller with Croatia
France
beat
Croatia 4-2
in the
2018 World Cup final
It was a last that had everything Russia 2018 has been commended for, all that it has captivated us with, aside from one key eventually definitive factor: a shock. France lifted their second World Cup trophy since Croatia just couldn't lift themselves that bit further, that bit more, in spite of the fact that the final product of 4-2 – making this the most astounding scoring last since 1966 – was one of numerous variables that felt so uncalled for on them.
That was at any rate the shock of the diversion, regardless of whether there was nothing astounding about the possible victors. France were extremely made to work for this, in a way they haven't been all through this World Cup, and in a way that influenced them to look so mortal and regularly such a great amount of not as much as title holders out of the blue. That that occurred upon the arrival of transcendence is amusing, however perhaps part of the test, some portion of the excursion.
The splendid wraps up by Paul Pogba and Kylian Mbappe put a genuine sparkle on the triumph, both regarding style and the score, yet they were not when it was won. They were not when this 21st World Cup last was chosen.
What really decided it were some of the other elements that defined this World Cup: glorious chaos, VAR, a penalty and some astonishing drama.
It is at least some mercy for all of Croatia and the game that the final moment wasn't the Antoine Griezmann penalty – and the Ivan Perisic handball – that will now cause such controversy, after referee Nestor Pitana brought it back for VAR review.
That will be debated a lot. What cannot be debated is how Croatia had been the better side up to then, how good they'd been.
This is also the challenge for a country of their size by the time they manage to make it to a game of this size.
Croatia didn't just stretch the limits of their player pool to get this far, but also the limits of their energy given that they were the first team to play in the World Cup final after three previous knock-out games had gone to extra-time. After those kind of exertions, you need a few things to fall your way, but that was not happening. The opposite was.
Everything was going against them, bar the direction of play. Although Croatia had started the game much the better side, and France didn't look assured, everyone was still left looking at the latter celebrate the opening goal. Again, almost everything in that went against them, too. It likely wasn't a foul on Griezmann, Paul Pogba might have been offside, but the ball definitely last hit a Croatian rather than a French player.
That it was the man who put them into the final in Mario Mandzukic made it all the crueller. That at least wasn't the decisive moment, because Croatia still had enough fight in them, still had the tenacity to fight the fates. That was the story of the goal, though part of it was another pointed detail.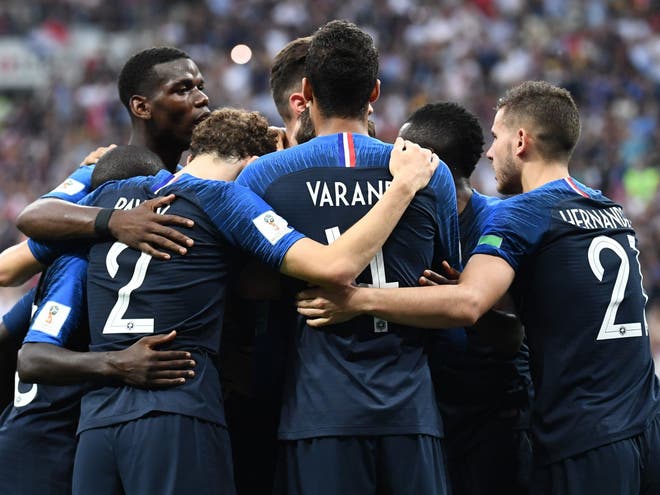 France were actually looking more chaotic at the back than in any game this tournament, with every Croatian cross bringing a rare panic rather than their usual poise. So it was with Luka Modric's 28th-minute delivery, as that bouncing ball saw Sime Vrsaljko force his way onto it, Mandzukic head it back and then Domagoj Vida help it on… before Ivan Perisic lashed it into the corner from the edge of the box with one of the goals of the World Cup.
Except that just saw something else go against them: this time that VAR decision.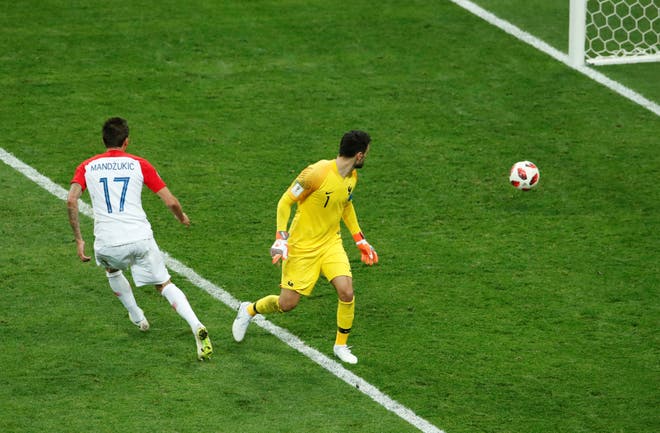 That was really it, though. It wasn't the last big action of the game, but it was the last time that Croatia really looked and believed like they could pull off the impossible.
It instead just became the stage for France to become football immortals, and that without a display really befitting the status.
Pogba and Mbappe then at least scored goals befitting the status.
There was still one more piece of chaos, as the previously unflappable Hugo Lloris allowed Mandzukic to tackle him for a goal.